Welcome to Paradisus Playa Del Carmen La Esmeralda
Paradisus Playa Del Carmen La Esmeralda Resort - All Inclusive
A stunning private bay is home to the lush, tropical Paradisus Playa del Carmen La Esmeralda and as the name states this is a paradise. Experience this all-inclusive Playa hotel with its promise of all-inclusive fun. The superior luxury resort in the Riviera Maya combines a breathtaking Caribbean setting with world-class facilities, including Family Concierge, YHI spa treatments, and modern meeting spaces designed to be flexible and equipped with state-of-the-art technology. All of this plus spectacular day excursions include diving and the iconic Mayan pyramids.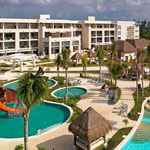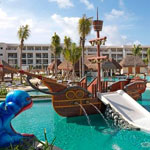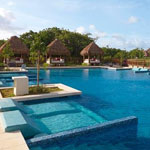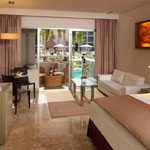 A short 45-minute drive from Cancun International Airport and close to archeological treasures, like Tulum, Chichén Itzá and Cobá, the resort offers the best in offsite adventures. For those in search of experiences a little closer to the luxury of the hotel, we offer unforgettable international cuisine from 14 restaurants and 11 bars. Alongside the water and surrounded by the protected mangroves, Paradisus Playa del Carmen La Esmeralda is on a level unlike anything you have experienced before.
Amenities spotlight (YHI spa, Royal Service Experience, Family Concierge Experience, Pools, etc.)
An All Inclusive Beach Resort Paradise For The Whole Family
Enjoy a luxury experience designed with the entire family in mind
Experience the charm of this Playa del Carmen resort surrounded by the Caribbean's warm crystal blue waters
Discover an enchanting private bay with pristine beaches and a carefully preserved mangrove coastline
Remarkable dining experiences with eleven world class restaurants and ten bars
Enjoy the Family Concierge program, perfect for small groups and families looking for added attention and service
Enjoy luxury modern styling in a timeless beachside tropical paradise
THE BEST RESORT IN PLAYA DEL CARMEN
Spectacular views, an incomparable guest-centric design, life enriching experiences, preserved beaches, and a world class culinary program are all part of the reason why Paradisus Playa del Carmen is considered the best resort in Playa del Carmen.
Family-oriented details, from child-sized amenities to pool obstacle courses make sure every member of the family has a special experience
SUPERIOR LEVEL OF LUXURY
Impeccably decorated and luxurious rooms complete with rainfall showers and deep soak tubs that make us a return destination for discerning guests
For guests looking for added attention and service, we offer the Family Concierge service. Family Concierge guests enjoy the exclusive use of the Family Concierge Welcome Lounge and Hydro Grill restaurant, plus a private pool, and preferential bookings in the restaurants and spa
Little ones are welcomed with their own array of goodies from small, comfortable, colorful furnishings to juices, milks, and snacks picked just for them
INTERNATIONAL AND EXCEPTIONAL DINING
Global gourmet is the order of the house thanks to eleven restaurants and ten bars. Guests can try a new menu every night of the week thanks to our incredible food services that prides itself on exceeding guest needs, wants, and desires
Japanese, South American, Mexican, and Mediterranean cuisines make up some of the most loved dining options in the world and guests can find them all on this Playa del Carmen resort paradise, all just steps away from each other
YHI SPA, OASIS TO REVITALIZE YOUR BODY AND SOUL
This property was designed to deliver relaxation and the Playa del Carmen beaches offer a perfect backdrop to do so, but a whole different level of rejuvenation is available after a visit to the 20,000 sq. ft. YHI Spa
YHI offers spa treatments, wet and dry saunas, studio group classes, and more. Treat yourself to personal wellness
PLENTY TO DISCOVER ON AND OFF THE PROPERTY
Enjoy this all inclusive resort, located just 45 minutes from Cancun International Airport and mere steps from pristine white sand Caribbean beaches. The all inclusive Playa del Carmen hotel is also close to attractions such as Playa del Carmen's trendy shopping district, 5th Avenue (take a cab or opt for a 20 minute walk along the beach) and famous Mayan archaeological sites such as Tulum, Chichén Itzá and Cobá
Diving, golf, Mayan pyramids and partying in Cancun are all possible while staying in the centrally located luxurious Paradisus Playa Del Carmen
Services and facilities Paradisus Playa del Carmen La Esmeralda
25,000 feet of flexible meeting space with 14 meeting rooms including a theater and a ballroom, and a separate groups registration area
State-of-the-art audio-visual capabilities (additional charge)
Business center (additional charge)
Access to the main golf courses in the area (additional charge)
Bilingual staff
Doctor on call 24 hours (additional charge)
Leisure Services
Activities such as Pilates, body balance, meditation, spinning, beach volleyball, aqua fitness, salsa lessons, snorkeling, step aerobics, stretching, and more
Life-enriching classes such as cocktail workshop, wine tasting, sushi making,and more
YHI Spa and Health Club with Spa Boutique, Water Ritual, 14 massage rooms, wet & dry saunas and more
2 lagoon-style pools
1 Family Concierge pool
1 Activities pool
Swim-up bar
Lighted tennis court
Wedding Gazebo
Marina watersports (additional charge)
Exclusive Services
All inclusive: Your breakfast, lunch, dinner, snacks, drinks, entertainment and activities are all included in the price you pay. Some activities may not be included in the services contracted
Family Concierge: The unique "Family Concierge" service option that provides everything a family needs for a perfect vacation
YHI Spa: Exclusive spa service with innovative new treatments for the purification of the body, balance of the mind and cultivation of the soul. A total experience for the 5 senses located within the hotel.
Activities and Entertainment
The Paradisus Playa del Carmen La Esmeralda Resort invites you to remain active on your trip by taking advantage of our wide range of leisure, entertainment, cultural and sports programs. There truly is something for everyone to enjoy!
ACTIVITIES FOR ADULTS
Sports activities for adults: jogging, volleyball, stretching,Pilates, spinning, meditation, and more
Lighted and well equipped tennis facilities
Pools for water activities including aqua aerobics and water volleyball
Workshops (tequila tasting, wine tasting, etc.)
Live music in the evenings
Marina watersports (additional charges may apply)
Dance classes
Golf nearby (additional charges may apply)
Environmental class on the beach
Tango lessons
Scuba diving/Snorkeling (additional charges may apply)
Life-enriching experiences
20,000 sq, ft. Yhi Spa
Shopping along "La Quinta Avenida" (additional charges may apply)
Day trips to Mayan ruins including Tulum and Chichén Itzá (additional charges may apply)
ACTIVITIES FOR CHILDREN
Specially designed kids and teens activity menu
Exclusive family activities and excursions such as swimming, classes, painting, and more
PlayStation®, Nintendo Wii and Xbox 360 available on request
Sports and water games
Beginners scuba diving classes (additional charges may apply)
Art and crafts workshops such as balloon figures, kite making, mask making and vacation scrapbook making
Camping, excursions to the beach, movies
Themed parties
Evening activities
Supervised kids camp
Kids only pool
Playground
Family Concierge Experience
Enjoy an unforgettable vacation stay in the luxurious Family Concierge rooms. Designed to offer superior comfort and added privacy, our Family Concierge rooms provide the perfect environment for the ultimate unique vacation experience.
CONCIERGE SERVICE
Personal tour of the resort
Preparation of in-room whirlpool (optional)
Room spa: preparation of Jacuzzi with aromatherapy (additional charges may apply)
Personalized in-room coffee service
Ironing service (two items per day. Does not include delicate items)
Shoeshine (on request)
Laundry collection
Preferential reservations in the a la carte restaurants
Preferential reservations in YHI Spa
Preferential reservations for tennis courts and other activities
Reservations for day trips and transport
Personalized minibar in the room
Replacement of ice
Postal delivery
Personalized wake-up calls
POOL SERVICE - POOL CONCIERGE
Private pool
Pool concierge
Fresh fruit and juice service
Cooling water spray
Aromatic cold towels
Sunglass cleaning service
Drinks service
Newspapers, magazines and books
Board games and playing cards